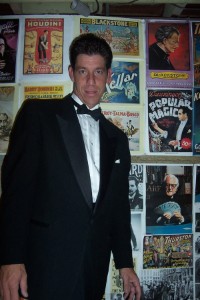 BODINI can teach you to perform magic like the pros. I have been involved with magic since I was 8 years old. I have won magic awards and have performed at many venues including the Famous Magic Castle in Hollywood, Ca.
I have performed magic for the Los Angeles Lakers basketball team as well as performing for celebrities including Robert Duvall, Eric Bana, Danny Devito, Lily Tomlin, Kim Basinger, Rob Lowe, Jean Smart, Blythe Danner and others.
I have worked with many magicians...Eugene Burger, Shoot Ogoawa, Tony Clark, Dean Dill and George Tovar along with many other local magicians.
I am currently holding classes in the intermediate and advanced stages of the art of magic. I am familiar with stage magic and parlour magic but specialize in close-up magic.
I will instruct you on whatever type of magic you are interested in performing.
As a student you will have access to my library which includes over 200 instructional videos and books on various types of magic.
BODINI THE MAGIC MAN